CREATE YOUR EMAILS IN A FEW CLICKS
EASY DRAG AND DROP EDITION
Easily create, change and arrange your email without any programming knowledge. Our drag and drop editor gives you all the freedom you need to create your email marketing campaign.
Start with your own template or kick-start your email design process with one of our ready-to-use templates.
Choose from your article, product, image, promotion repository or other relevant items and insert them into your email without effort.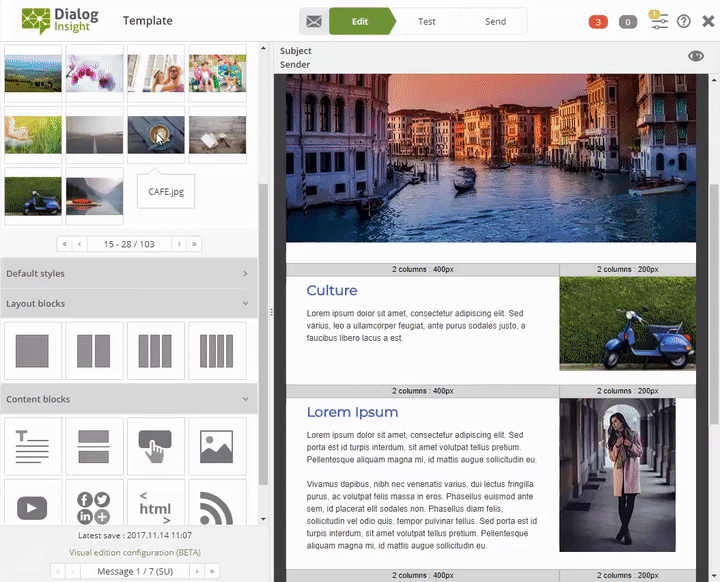 PREVIEW YOUR EMAIL DISPLAY
Optimize your message display in major email clients by using the Litmus email preview tool integrated with Dialog Insight.
Preview your emails on more than 50 email clients and mobile apps and ensure an optimal display.
OFFER A TAILORED EXPERIENCE
RESPONSIVE EMAIL TEMPLATES
The Dialog Insight's platform offers ready-to-use and flexible email templates. Adjust colors and insert your images and content to personalize any template to your organization.
All templates are offered with drag and drop edition and responsive display. Don't worry about mobile display anymore!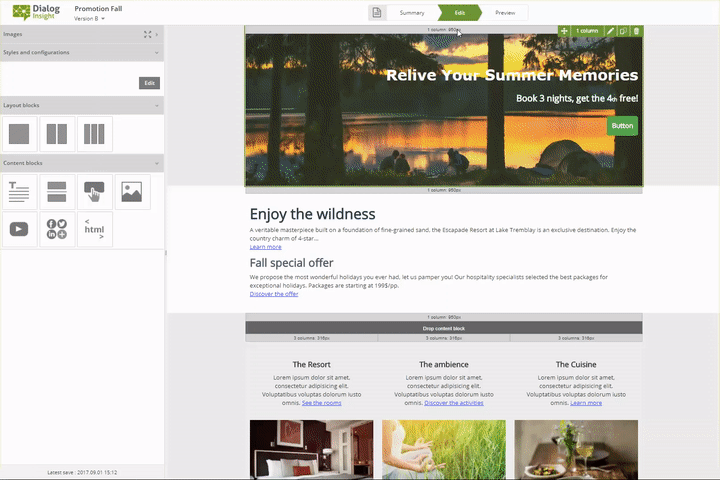 MAXIMIZE THE IMPACT OF YOUR EMAILS
Build landing pages for each of your campaigns, whether to inform visitors about your new product or to promote a special offer.
Engage your audience and achieve greater impact through blocks of dynamic and personalized content. The drag-and-drop editor makes it easy to add content in a few clicks.
Define your conversion goal and perform A|B testing to optimize your conversion results.
CANADIAN ANTI-SPAM LEGISLATION
(CASL) COMPLIANCE
CONSENT CENTER MANAGEMENT
Use our consent center to efficiently manage your subscriptions. Don't worry about being compliant; Dialog Insight perfectly meets the laws in force.
Consent management – permissions and deadlines
Unsubscribe requests management
Email compliance management
History record